Difficulty: surprisingly difficult, given that this pretty creek runs right through Coalcliff.  You'd expect a small track on one or other side of its banks, but no track readily discernible.  On the western side of Lawrence Hargrave Drive, the difficulty obtains another dimension.  The creek runs through privately owned and fenced coal mining land.
Summary: a bouldery creek running down to Coalcliff beach.  Included within B5 are whole series of small suburban drains that direct local runoff down towards the creek proper.  These are most obvious along Lawrence Hargrave Drive from Coalcliff Station to the bridge across Stoney Creek.
Directions: either continue on from B4 and descend down Lawrence Hargrave Drive to Stoney Creek bridge and left to Leeder Park and Coalcliff Beach or alternatively park at Leeder Park and walk up to Coalcliff Station and back down to the park and the beach.
Point of disappearance: the small drains seems awkward to follow.  Stoney Creek itself deserves more determined exploration, but it was raining heavily, so thought better of it.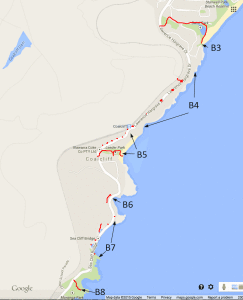 B5a…: any number of small drains and watercourses running beneath Lawrence Hargrave Drive on the steep descent from Coalcliff Station to Stoney Creek.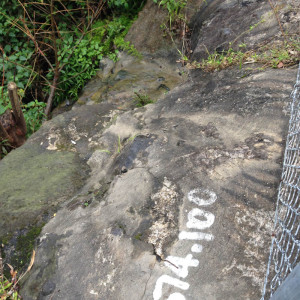 B5 (proper): Stoney Creek